Musicology Australia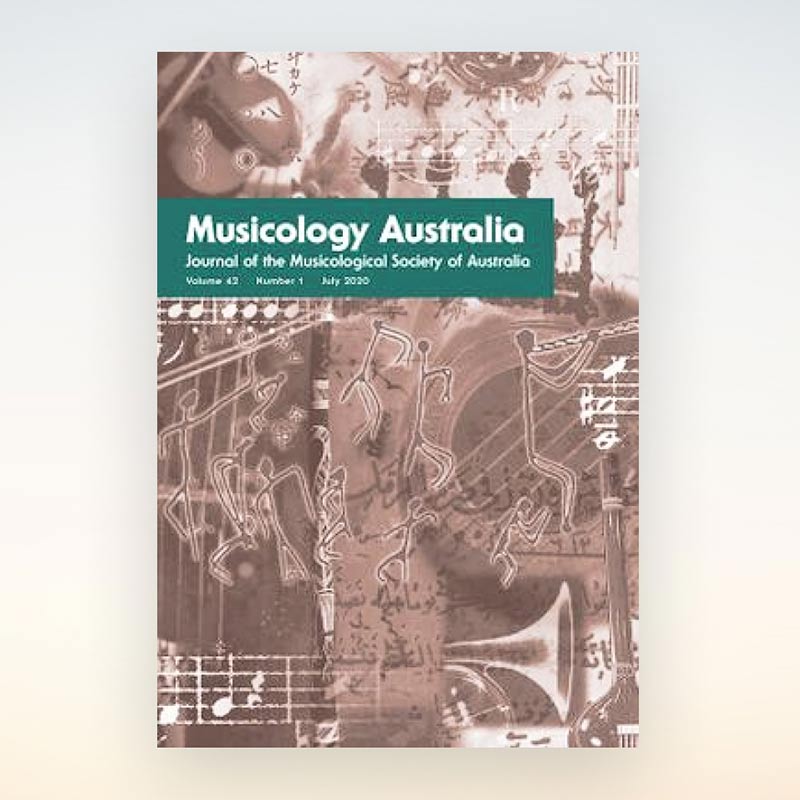 Musicology Australia is the scholarly journal of the Musicological Society of Australia. Since its inception in 1963, the journal has published articles on all aspects of music research, especially ethnomusicology and musicology, which marks it out from most other music journals.
Today, articles and reviews cover a broad spectrum of music research, including historical musicology, ethnomusicology, popular music, indigenous music practices, jazz, theory and analysis, organology, performance practice, and contemporary music. The journal is published twice a year, in July and December, with occasional Special Issues. Contributors are not required to write on Australian music or be Australian-based musicologists. Researchers interested in proposing a Special Issue should contact the Editor for further information.
Starting with volume 45, 2023, the Musicology Australia Annual Prize of $500 will be awarded to the best article published in the journal in a calendar year. Eligibility is governed by the volume year of the journal, regardless of the date the article was first published online or when the issue appeared in print form. This Prize is open to all authors who publish a peer-reviewed article in Musicology Australia. All authors of accepted articles will be automatically considered for the Prize.
Editorial Board
Musicology Australia is governed by an Editorial Board of senior musicologists:
Catherine Falk, The University of Melbourne, Australia
Annegret Fauser, University of North Carolina at Chapel Hill, USA
Michael Hooper, University of New South Wales, Australia
Tami Gadir, Royal Melbourne Institute of Technology, Australia
David Larkin, The University of Sydney, Australia
Kerry Murphy, The University of Melbourne, Australia
Kathleen Nelson, The University of Sydney, Australia
Jonathan Paget, Edith Cowan University, Australia
John Rink, University of Cambridge, United Kingdom
Katherine Butler Schofield, King's College London, United Kingdom
Sally Treloyn, The University of Melbourne, Australia
Francis Yapp, University of Canterbury, New Zealand
Paul Watt, The University of Adelaide, Australia
Information for Contributing Authors
Articles should normally be 6000-10,000 words (including footnotes and/or references), though shorter and longer articles will be considered. All articles considered for publication are assessed anonymously by at least two experts. Solicited and unsolicited book reviews (2000 words) and review articles (4000 words) are considered for publication.
Information for authors wishing to submit an article to Musicology Australia is available via the Taylor & Francis website.
Enquiries regarding Reviews should be addressed to the Reviews Editor.
Informal enquiries about the journal should be addressed to the Editor.
Subscriptions
Subscription to Musicology Australia is included in MSA membership.
A subscription to the institutional print edition (ISSN 0814-5857) includes free access for any number of concurrent users across a local area network to the online edition (ISSN 949-453X). Please visit the Taylor & Francis website to arrange an institutional subscription.